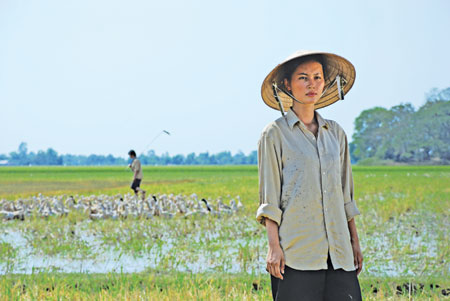 We told you about Dustin's upcoming film Endless Fields due out next month, and thanks to Dustin giving us an update and reporter Phan Cao Tung, we are able to give you much more about the film! We are only giving you some highlights from the article since we wanna encourage you to go directly to the source for the entire article!
http://www.thanhniennews.com/2010/Pages/20100918162244.aspx
Director Nguyen Phan Quang Binh adapted the book and said he is satisfied that he has made the film his way. "We didn't copy the entire story. We added many details to make the characters richer." The director said his film will have a brighter ending, because he wants to "release" his audience from the obsession that the literary work instilled in its readers. But the film will keep the original message of the writer: only forgiveness makes life easier. He said he hoped the film will be artsy but at the same time, appeal to a mass audience. Floating Lives (as it is also known) features a glittering cast that includes Dustin Nguyen and Do Hai Yen. Nguyen (Ut Vo) said he came away with a number of bruises in the many days he spent learning how to row a boat, catch fish, do wood work, round up drn farmer. "When reading the story, I was really moved," Nguyen said. "It's simple but the atmosphere and emotions are haunting, especially the life of the father. So I accepted the part. [Vo is] a character with terrible conflicts and few lines. This is a serious choice of mine as it gives me the chance to discover myself." It sounds ridiculous but the director said the biggest obstacle during the making of the film were the mosquitoes. The film was shot near the river in Can Tho City, and in Dong Thap and Long An provinces, which are known for the saying "the mosquitoes fill the air like a band of flutes and the leeches crowd the rivers like noodles in a bowl." In order to produce satisfactory shots, Binh said the whole crew had to accept wading through brackish water and being stung by mosquitoes day after day. Crew members agreed that the film has been the most demanding undertaking of their professional careers. Floating Lives which was produced by BHD (Viet Media Corp.) and Viet Film Studio will be released nationwide on October 22. It will also be the only Vietnamese entry to the Pusan Film Festival, in Korea, which will be held from from October 7 to 15.

---