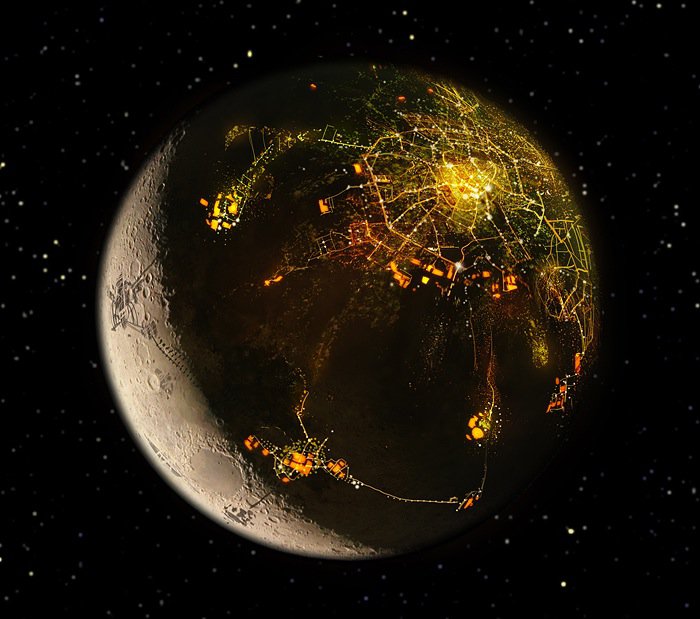 We are lucky that Peter was as excited about doing an interview as we were about getting one because he has some great reading for everyone!
1. Winning a film award while in high school from someone as big as George Lucas and his first youth film festival probably put a huge "you must succeed" target on your back! Explain what kind of an impact this award had on the direction of your life and if you felt you had a lot of pressure to succeed.
Peter: I just felt an enormous sense of validation. At 15 years-old, I was already pretty convinced that I was going to be a film director when I grew up. But it was difficult because a lot of people told me that filmmaking was impossible and to try for something more reasonable. By then I was just obsessed with film and also had a very supportive mom who told me I could do anything I wanted if I developed my skills. So when I won the film festival, it was George fucking Lucas saying "don't give up – you're good at this". I was and still am such a huge Star Wars geek, it meant the world to me. It was just what I needed at that time and gave me the spark that kept me going for years of hard times after that.
Recently, I ran into George Lucas at a Writer's Guild event in Los Angeles and went up to him and thanked him for that acknowledgment all those years ago. He blew me away when he remembered me and remembered my short sci-fi film! I was like, "Shut UP, George Lucas!". But he really did remember. He was very kind and it was awesome to chat with him after all these years. I hope to show him "The New Kind" when it's ready. It's my "Star Wars" after all.
2. Anyone who knows your background is aware that you love sci-fi, so obviously it is the film genre that gives you passion about filmmaking. Where does that passion come from and do you see yourself delving into other genres as well?
Peter: My last feature film is a drama about a homeless family who live in their car. "First, Last and Deposit" isn't sci-fi and neither are a lot of my films and screenplays. But sci-fi is my favorite genre even though I think it's not done very well most of the time. It's a tricky genre because you have to create a whole new universe. It's hard enough just creating a realistic world we all know let alone inventing a new one from scratch. But what I'm really interested in are good stories about people I can believe in and care about. I want to fall in love with characters in the movies.
"Close Encounters of the Third Kind" is my favorite film because it crosses my two favorite things in the movies – people who I can believe and situations that are mind-blowingly supernatural. I love to be transported to a different reality. But most of the time, the characters in sci-fi films are so unbelievable that when something fantastic happens to them or they're put into danger, I just don't care because I don't believe in them. I don't believe they're people. Too many times they're just like cardboard cutouts. Like the Transformers movies – totally cool transforming robots but super fake people. It's boring to me.
3. Tell us about the evolution of Strike.tv and what readers can expect from your website.
Peter: We're currently going through a lot of changes at Strike.TV. We're working with a new investor and a new business plan. It's not something I can talk about right now but we're all very excited about the possibilities for the future. Our goal is and has always been giving the Hollywood creative community a place to share their work without the interference of Studios and that continues to be our goal.

4. You always seem to have your fingers in the whole pie! How much of the storyboards, ideas, writing ect. have you been involved in with your current film project The New Kind?
Peter: My writing partner is Taylor Van Arsdale. She's a very talented sci-fi screenwriter and we've been working together for about a year now. It's been really fun collaborating with her. She's got some super cool ideas that she's bringing to "The New Kind." I originally wrote the outline for "The New Kind" about 10 year ago and this year, we've brushed it off and worked on it together. She's defiantly breathed new life into it – adding new elements and characters that are totally awesome.
So far, I've sketched a rough storyboard for every shot. I work very closely with my concept designers, drawing things as reference or sending them pictures of things I'm wanting for a specific element or mood. I'm pretty detail oriented. But I'm also working with an amazingly talented group of artists (well over 100 artists now) and they often come up with ideas that are very different than mine – but better. It's like, forget what I said – that kicks my ass! Let's do THAT! I love when that happens.

5. What can you tell us about the film, it's evolution, the major players, the release plan, and is the current shooting for promotional purposes or part of the actual film?
Peter: "The New Kind" is Anime-style live action feature film. Photo-realistic CGI. Our influences are Robotech, Akira, Ghost in the Shell, Appleseed, Bubblegum Crisis, Evangelion, Gundam and a bit of Star Wars and The Dark Crystal. I can't share too much about the plot but it's a love story between a very special teenage boy and girl that live 30 years in the future after a massive economic collapse.
After Taylor and I finished the first draft of "The New Kind," we showed it to a few of our film industry friends and the reaction was amazingly positive. Chris Evans (Return of the Jedi, Indiana Jones, X-Men, Titanic, Spider Man among many more) who is an Emmy Award-Winning and Oscar nominated matte painter and visual effects supervisor offered to Art Direct the film on spec. He created concept designs that are stunning. He then brought in Alex Weller, a CGI artist Chris worked with on Alice in Wonderland to build some digital models for us. I then found more CGI artists to volunteer and we began building digital sets and characters.
Our Motion Capture producer, Greta Anderson introduced us to Reuben Langdon and Eiren Chong from Just Cause studios who decided to donate their time and team and produce all our motion capture for the first ten minutes of "The New Kind." They did many of the stunts and motion capture on Avatar. 
My director of photography is Michael Franks who is an Emmy Award winner and is donating his time and gear to "The New Kind." I have two music composers. Christopher James Thomas who scored my last film as well as an IMAX film called "The Greatest Places." He's also won two Emmys. And Julian Beeston who has worked on "Batman Begins," "Resident Evil" and Jet Lee's "Hero," is scoring additional music as well as sound designing "The New Kind."
My concept designers Peggy Chung, Daniel Xiao and Lindsey Laney are currently going to school at the Design Center in Pasadena. Then there are recent Full Sail grads like Lucas Morgan (Environment Supervisor), Casey Miller (Character and Props Modeling Supervisor), Shawn Minard (Rigging Supervisor) and Javier Rolon (Animation Supervisor). They all lead teams of skilled digital artists from around the world.
Stephen Jenkins who leads our compositing team also works at Blue Sky Studios and came aboard to donate his time and talents. During the day he and his team work on the next "Ice Age" and Harry Potter films – at night and on the weekends, they work on "The New Kind" from home. 
My casting director is Amy de Souza Carenza is also donating her time and resources. We're thrilled to have discovered some fantastic young talent for "The New Kind."
It's like we're crowd-sourcing "The New Kind." Everyone's volunteering so far and no money has been spent. But I'm thinking in "virtual dollars," about $5 million dollars worth of goods and services have been donated so far. The artists involved are from around the America and the globe. They live in LA, San Francisco, Santa Barbara, New York, Texas, Nevada, Georgia, Virginia, Washington, North Carolina, Colorado, Florida, Ohio, Greece, Chili, Singapore, Italy, the UK, Iran, India, Serbia, Spain, Brazil, Vietnam, Germany, Turkey, Australia, Canada, the Philippines – all volunteering their time with the hopes that this will get them a paid gig making the feature film. At the very least, we'll all get a great new reel and collaborate with some crazy talented artists. Best case, we're all working on the next Star Wars.
We use Skype and "The New Kind" Facebook group page to collaborate and communicate. But we are also open for fans to watch us make the film in real time. They can even make suggestions in mid-creation. It's also great for promotion and getting the word out on the movie. One of the fans of the "The New Kind" page is Shinji Arimaki who designed the original "Transformers" as well as "Robotech," "Bubblegum Crisis" and directed the last two Appleseed films. He also just directed the new "Halo" film. Every once in a while, he'll "Like" one of our designs on "The New Kind" and it sends ripples of excitement through the production.
We plan to produce the first 10 minutes as Episode One in a 12 part series to be aired on Strike.TV or strung together into a feature film. We're making it in 3D so we might release a few episodes online in 2D and then release the entire feature version in theaters in 3D. Who knows? We'll see what happens. Meanwhile, we're just plugging away at the first 10 minutes of the story with the faith that we'll get funded somehow. But look out for the first look at "The New Kind" in early 2011.
Don't forget to check out The New Kind Facebook page!
http://www.facebook.com/peter.hyoguchi#!/group.php?gid=127971893907947&ref=ts
---