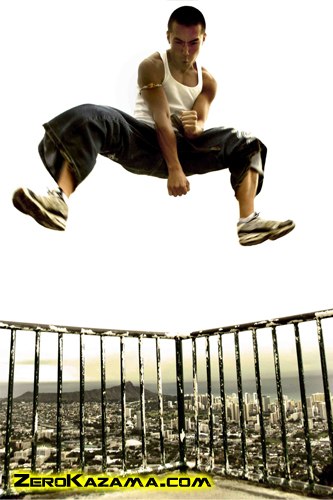 Zero might admit that his MTV series Silent Library is where most people recognize him, but like many, his real passion is not what he is best known for, i.e., making people be quiet in the fukin' libray!
Zero is an amazing martial artist and can be seen acting and performing his own stunts in a number of feature films and TV shows. He has been a stuntman for the TV series Chuck and Lost and for the feature film Tropic Thunder. Currently he is in Hawaii to provide stunts for the TV show Hawaii Five-O. In between his film and TV career he is always making his Beasty Training videos which are so funny to watch and yet DO provide great training advice in the process!
Since Zero is one of our buddies that we love to support, and his Ohau Beasty Training is out, we are gonna show you Part 2 because getting up at 5 A.M. to do stunts (on a boat) and still waiting at 11 A.M. make for some very funny Zero!

---