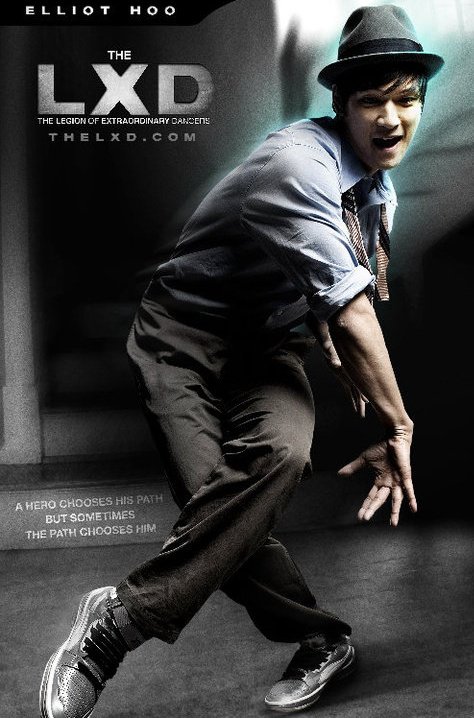 2010 was such a big, busy year for Harry that we didn't get to sit down with him on camera, we will do that in 2011 which promises to be an even bigger year for Harry! But he did provide us with his written response to some questions that were on readers minds.
#1. One of the interesting things about your upbringing is that your parents are Chinese, but you were raised in Costa Rica and have Spanish as a first language! Tell us about your journey with language and finally connecting with the dance and film industry in the USA.
Harry: It was very confusing when I moved to the US and had to learn Chinese and English. I remember learning songs in English in Costa Rica, but Spanish was my first language. I was immersed in the Latin culture and never really thought twice about what race I was because I was born there. It was always funny to look at pictures of me and my classmates because I would be the only Chinese kid in the group.
When I finally moved to the US, I knew I had something to share with people, but I was stuck in a shell being in a foreign land. Movies and cartoons were my connection to the American culture and I fell in love with it. I loved how it made me feel with all these different emotions and the effect it had on me. Especially in the Chinese culture where "emotions" aren't usually expressed much, the arts were the gateway for me. From then on, I knew I wanted to be part of the arts when I grew up. Luckily, I get to do what I love to do and get paid for it.
#2. You have been a dancer with some very big name stars like Beyonce, Mariah Carey and Jennifer Lopez. Where did your dance passion come from, how did you land such big shows and how did your dance training contribute to these big opportunities? Do you also have interest in focusing on choreography?
Harry: I was on the dance team in high school and it was more for fun than anything. We would mimic Michael Jackson and Usher dances and perform them in front of the school. It wasn't until I moved to San Francisco to go to college that I realized it was a passion. I was dancing more than I was studying and training into the wee hours of the night.
My intentions were to always move to L.A. for acting, but I sped up the process of getting down there to give dancing a try. People kept telling me that you could make money "dancing" and I had to see it for myself. I got lucky because the first week I was in L.A. I booked my first tour. I got the job while I was taking a dance class. These choreographers (who I ended up working with again in Step Up 2 and 3) were scouting new talent and I fit the job description. After getting off that tour, I had some dry runs where I wouldn't have any work come my way, but during that time I started to train and also understand the business side of the industry. This helped me learn to market myself and find my unique dance style.
Choreography is something I love to do, but I have no intentions to pursue it as a career.
#3. Your film roles in the dance oriented films Stomp the Yard, Step Up 2: The Streets and Step Up 3D have had a huge impact on both your dance and movie careers. What was it like filming these movies and did you contribute to the films in more ways than as an actor (such as choreography)?
Harry: These dance films defined this generation of dance and brought street dance to the spotlight which allowed people to learn and see what this underground style was all about. It was a great experience being around some of the best of the best and learning from them was definitely a highlight of mine. We were able to have some input here and there on choreography and collaborate, but most of the time we left it to the choreographers to set the pieces.
#4. Having a starring role on Glee has certainly impacted your star power. How does working on a regular TV series compare to making a film and where do you see your character Mike Chang evolving in the future?
Harry: Television works much faster. An episode is usually shot in about 8-10 days for 44 minutes of content while film takes more time and can vary from 2 months to sometimes 4 months. The biggest difference for me is the preparation, where in film you would have a month of rehearsals and in television it would be shrunk down to a day.
I'm not sure how Mike Chang will evolve, but I'm looking forward to learning more about him and what makes him tick. I'm also curious about finding out his home life as well. I know his household would be VERY interesting.
#5. What TV, film or dance projects are in the works for you and what can you tell us about these projects?
Harry: I'm currently working on The LXD series and a short film action adventure, 3 Minutes, with Stephen "tWitch" Boss. There are a couple of films I'm interested in which hopefully work out with scheduling and I'm looking forward to 2011 and what new opportunities arise.

---