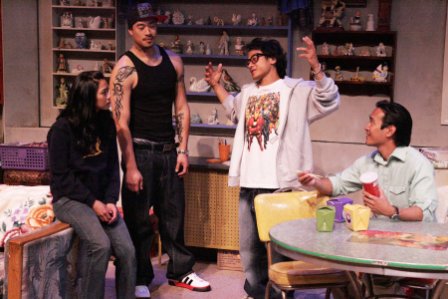 The Colony Theater in Burbank may seem like an unlikely place to stage Year Zero (Directed by David Rose) which is about a Cambodian family living in Long Beach, but as Artistic Director Barbara Beckley told us before the performance, finding unexpected stories is what The Colony Theater is all about and the subject of family is something common to every ethnicity, race and culture. Barbara heard about the play some time ago and after asking around managed to get a copy from Tim Dang, Artistic Director of East West Players. Her initial response was, "I fell in love with it." What's to love about it? I'm gonna tell you…
Often plays start out with a bang and/or are just constantly in your lap because theater is always big and bold. Year Zero is a bit different in that respect because it's almost like watching a film in the way it unfolds. At first the play marinates; then simmers; and by Act 2 it's a full rolling boil! Michael Golamco's writing allows the audience to perhaps know and understand Cambodian culture just a little and develops his characters to the point where the audience cares and understands them and eventually being Cambodian isn't even relevant anymore in the sense that the audience does not feel like they are watching the lives of people from some unknown and unfamiliar world. It's beautiful in that sense because it is able to reach out to everyone.
The cast includes Christine Corpuz, who plays older sister Ra, who as the "solid rock" drives the assimilation cause and perhaps in the process has missed much of her own ethnic identity, knowledge of her extended family in Cambodia, and an understanding of her own mother and her Cambodian history. Ra's emotional rollercoaster is beautifully done by Christine and accentuates the choices she must make. Tim Chiou, who plays neighbor Han, is just brilliant as a Cambodian gang member (standout performance) who is very connected to his ethnicity and in many ways unable to assimilate. David Huynh, who plays Vuthy, always gives superb performances on stage and screen (we have covered David's work in the film Bang Bang and the play Mysterious Skin) and his teenage character is the focal point of everyone else's struggle; trying to make him believe they know the way forward. And then there is Ra's oh-so Americanized Asian love interest Glenn played by Eymard Cabling which for me provided just the right amount of comedic relief as he worked tirelessly to make the family "all right" by showing them the "right" way forward.
This play is about family and friends, change and choices with the thread of immigration and assimilation running all the way through and it's a wonderful emotional ride. So, those in the L.A. area should probably bring friends and family and for a nice change and make the choice for Year Zero. Next week we will be sitting down with the cast for an interview so stay tuned!
Year Zero trailer can be seen here: Year Zero
For more information about Year Zero, tickets and information or upcoming Colony Theater productions, visit their website here: The Colony Theater
---