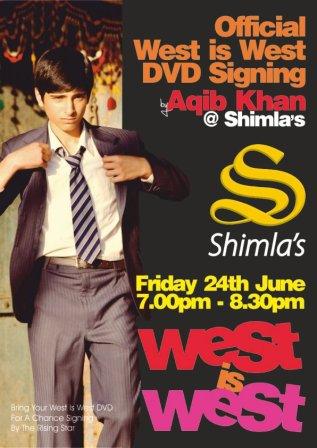 Our neighbors to the north are having a weekend film festival devoted to South Asian films. Tonight, for their opening gala, the Vancouver International South Asian Film Festival will be screening a UK film called West Is West. And while we don't have a London correspondent yet, we were able to to get some questions to the films lead, Aqib Khan, and ask him about acting, the film West Is West, and his character in the film.
1. When did you get started into acting and has it always been something you have been interested in doing?
No, it has not always been an interest. In fact, it was all very random and a bit crazy. Just before my 15th birthday a school teacher suggested I go to an open audition. From there I eventually landed the staring role of West Is West and now I'm a full time actor!
2. Is "West Is West" your first feature film? How did you get involved in the film?
This is not just my first feature film, but my first acting job. I'm completely new to all of this and I love it. The only experience I can say I've had prior was in a school play at the age of 10. I didn't even have drama as a school subject!
3. Tell us about the film and your character.
The film is basically a behind the scenes look at all the ethnic problems a family encounters (as you see in East Is East). My character, Sajid doesn't know much about his roots and after throwing a few tantrums in Salford (due to bullies at his school) he's sent back to Pakistan. His father, George, is also seeing his wife and 2 daughters after 35 years because he left them in Pakistan when he moved to the UK. It's a dramedy  that turns into a fantastic rollercoaster of emotions.
4. Although the film is about the clash between traditional Pakistani customs and the westernization of Sajid, do you think the comedy transcends the fact that most westerners don't know or understand Pakistani traditions?
Personally, I'm very in touch with my roots, but a lot of people are not; alot of people relate to this film in the sense that they have a cultural background, but are not connected to it. Quite a few people from completely different backgrounds have said this film is like their own story which is brilliant because that's what we were trying to achieve. Sajid isn't open to his culture because he was raised in Salford. Salford in the 70′s didn't have many mosques and the Pakistani population was small and so they couldn't find many people to relate to, so Sajid feels very much like an English boy despite the best efforts of his dad. Throughout the film he adapts and explores his culture and loves it in the end.
5. Do you have any new projects in the works?
Yes I do! I have a 5-part drama series coming out on ITV (UK) called "The Jury 2″ which is a courtroom based drama. I thoroughly enjoyed filming the series and it has a great cast and a great writer so I expect it to be a hit! I'm committed to working hard and becoming part of this industry. This definately wont be the last time you'll be hearing about Aqib Khan

And you can keep up with me and my career on my twitter account @realaqibkhan!
If you would like more information about the festival or are interested in purchasing tickets, visit their website at www.visaff.com

---